Its Never Too Late to Learn …. Creating Lifechanging Opportunities for Adult Non-Swimmers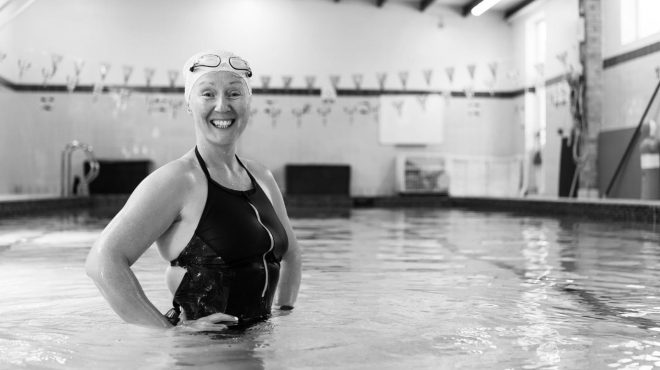 Our #BreakingBarriers project forms part of our continued commitment for promoting Inclusiveness, Integrity and Collaboration in swimming around the world; and here we speak to STA Brand Ambassador, Vicky Malmsjo, who in May for International Learn to Swim Week decided to run a competition so that non-swimming and aquaphobic adults could win an opportunity to attend swimming lessons for free.
Vicky, as the Founder of Swimspirational Open Water Coaching, this is really an inspiring, lifechanging prize you were offering; did you receive many entries?
"I was overwhelmed by the response I got, I received over 100 entries, each of them telling me in their own words why they had never learnt to swim and how their fears of the water were impacting on their everyday lives.
Was it difficult to choose the winners?
"Yes, very difficult, but I chose 4 winners and then provided them with 4 monthly swimming lessons which were funded by myself."
Why did you decide on this competition format?
"I feel so passionately about helping people to learn to swim and overcome their fears and I knew that this opportunity had the potential to change lives. I am a trained aquaphobic swimming teacher and over the course of lessons, I saw all of the swimmers gain both confidence and swimming ability in the water."
What impact did the lessons have on winners?
"After the first lesson, I had seen these incredible, brave individuals learn to float and start to change their relationships with water and when they swam 10m overarm unaided at the end of the course which was just 4 x 30-minute lessons I could not have prouder. What they have achieved, in such a short amount of time, is just inspirational and I am so pleased that I was able to facilitate this for them. Being a swimming teacher is the most rewarding job in the world."
One of the swimmers who was helped by Vicky said:
"I didn't get the chance to learn to swim when I was growing up. I spent many years in the foster care system and it had never been a priority. When I turned 18 I had pretty much accepted that I would never swim and I had become aquaphobic, to the point that walking out on a jetty or pier would make me panic.
When a friend mentioned that they had seen a competition on Facebook for free adult swimming lessons I admittedly wasn't the most enthusiastic. However, I applied and won!! On the drive to my first lesson, I considered pulling out, just the thought of getting into a pool was petrifying, let alone the thought of actually swimming!
When I arrived at the pool, I met the swimming teacher Vicky, and that's when things changed for me. She totally understood my fears and ensured that we went at a pace I was comfortable with. Having no one watching helped as well, and by the end of my first lesson my relationship with swimming had slightly changed. I was still fearful but I could float and if I could float then maybe I could feel safer in the water.
On my second lesson I swam for the first time in my life. Vicky's encouragement and 1-1 tuition made me feel safe and I couldn't believe that I could learn so quickly. By my fourth lesson I swam a length of the pool unaided!
I feel really lucky to have had this experience and I can't thank Vicky and the STA International Learn to Swim Week campaign enough for giving me this opportunity and ongoing encouragement. It has changed my relationship with the water completely. I may never be an Olympic swimmer but I can be safe in the water. That's something every person should have the opportunity to experience."