Explore and Expression – The Joy of Artistic Swimming
Following on from the success of the leisure industry's first online artistic swimming CPD, 'Experience', STA with Aquabatix are launching the next CPD in the series titled 'Explore and Expression', which is further supported with six downloadable lesson plans.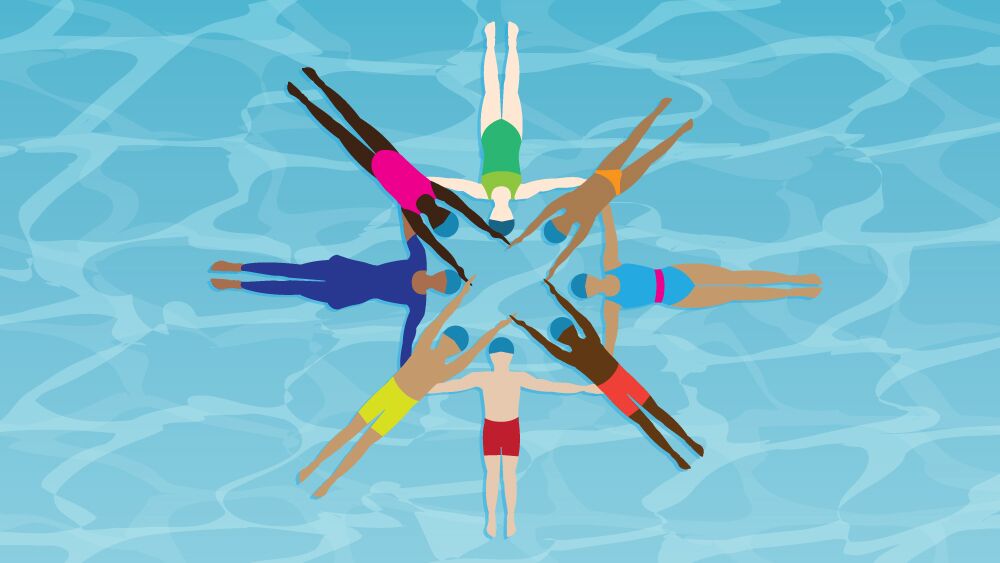 Written by Aquabatix, the world's leading professional artistic swimming company, 'Explore and Expression' focuses on the expressive side of artistic swimming to help aquatic professionals teach their participants about creativity, exploration of what movement can be achieved in water and the opportunity to express themselves in this environment.
Katie Fried, the co-founder of Aquabatix explains: "In follow up to 'Experience', which covers the fundamental skills required for artistic swimming, 'Explore and Expression' takes aquatic professionals on to the next teaching stage. The content focuses on how to teach participants about body movement, space and shapes while performing as an individual, in a partnership or in a group.
On completion of the CPD and with the lesson plans, teachers will be able to teach the skills needed to help their participants create their first artistic swimming sequences.
In detail, it covers how breath control can be trained through strokes and underwater swimming and features important safety information from STA's partner Shallow Water Blackout. The CPD explores movement in water and demonstrates how all the featured skills can be linked together to create simple and effective sequences," said Katie.
Similar to 'Experience', each step on the new CPD features comprehensive, easy to follow content, video commentary and pool demonstrations by double Olympian Katie Clark and artistic swimmer Connor Hill, as well as a team from Aquabatix. As further support the CPD includes six downloadable lesson plans for poolside reference.
Adele Carlsen, who co-founded Aquabatix with Katie, said: "The aim of launching 'Experience' and now 'Explore and Expression' is to remove the mystique around teaching artistic swimming skills and with STA bring the joy of the aquatic discipline to the masses. We want to use our experience and knowledge to help aquatic teachers deliver new creative skills and imaginative content during their swimming lesson programmes in a fun and engaging way to participants of all ages and abilities."
Zoe Cooper, STA's Sales and Marketing Director, adds: "Both of Aquabatix's artistic swimming CPDs are hugely beneficial to Level 2 swimming teachers or professionals with an aquatics background in particular – teachers who want to expand their skill sets and swimming programmes. And, importantly for STA – more teachers trained in artistic swimming, means there will be more opportunities to inspire a new generation of learners and keep them active in the pool for longer."
Camilla Golledge, Teacher and founder of Swim Fusion who has also already completed the CPDs said:
"I would highly recommend this series of CPDs to swimming teachers who are looking to add some creativity and fun to their lessons. This CPD has made me realise how much fun there is to be had by adding this to our programme – exciting times for our swim school and customers."
Maria Timperly, STA Tutor and Owner of Just Add Water swim school added:
"I LOVED it! So much information packed into an easy to follow CPD. A brilliant follow up to CPD 1. It was really useful in helping put together a series of sessions to introduce swimmers to the world of artistic swimming. And it was all presented in easy to understand videos with supporting written material. My whole teaching team will be doing this CPD so that we can get this new opportunity up and running for our swimmers as soon as possible. A new and exciting income stream for our swim school."
SPECIAL OFFER: Save £10 by purchasing CPD1 'Experience' and CPD2 'Explore & Expression' as a bundle. If you've already purchased CPD1, you can purchase this CPD2 at a discounted rate of £25.  To take advantage of these bundle offers from Aquabatix, telephone the STA office on 01922 645097.
Available exclusively via STA, find out more and sign up to complete the new 'Explore and Expression' CPD
here.