Join Us at the First STA Virtual Swim Expo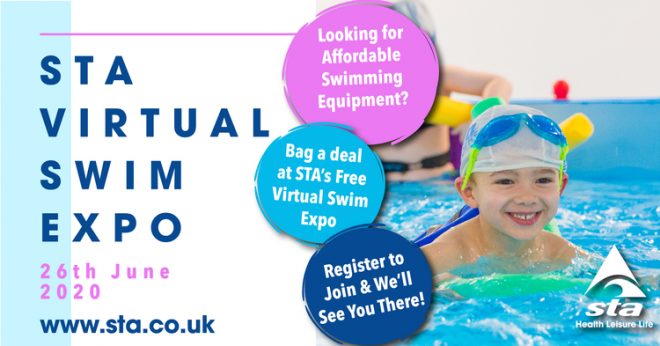 In respect of the current economic situation in the leisure industry and the unknown with regards to social distancing rules and mass gathering over the coming months, STA has made the difficult decision to cancel this year's annual member's conference which was scheduled to take place in October – the new date for next year is 1st-2nd October 2021 at the same Marriott hotel in Leicester.
In the meantime, however, to help swim schools, swimming teachers and pool operators get ready for when swimming pools reopen – hopefully in July – we are delighted to announce that we are organising the first STA Virtual Swim Expo, which will take place on Facebook on Friday 26th June, and everyone is invited!
STA's Virtual Swim Expo, just like the trade show held at conference each year, will provide a forum for members, swim school owners and pool operators to connect with key swimming / leisure brands, who will be showcasing their range of products and offering exclusive Expo offers.
Zoe Cooper, STA's Sales and Marketing Director says: "It was really difficult to make the decision to cancel conference this year; it is an event the team love to organise for so many reasons, and especially because it gives us the opportunity to meet up with so many members and partners. The reality however, is that we don't know how the next few months are going to play out, and our priority now is to help swim schools as best we can, make plans for re-opening – we are therefore excited to launch our first virtual Swim Expo at this crucial time."
"Following the release of our 'Best Practice Guidance for Members in Preparation for UK Swim Schools Re-Opening', and the imminent release of official Government guidance, many swim schools will have noted that there will be an influx of equipment required to ensure safe practice during swimming lessons. To support this, Swim Expo has been created to help bring together a host of popular swimming / leisure brands in 'one' place; it will give 'visitors' the chance to see what products might be suitable for their swim school and the opportunity to take advantage of exclusive Expo offers," confirmed Zoe.
Swim Expo is a free to attend event and will take place in a closed Facebook group on Friday 26th June. Visitors can request to join the group here, and all attendees will be accepted into the group on the day of the event when the virtual doors open at 9.30am.
Also if there any companies that would like the opportunity to virtually exhibit their products and services at Swim Expo, please email marketing@sta.co.uk for information.