'STAnd Up for Swimming' has a new Headline Sponsor – ThinkSmart Software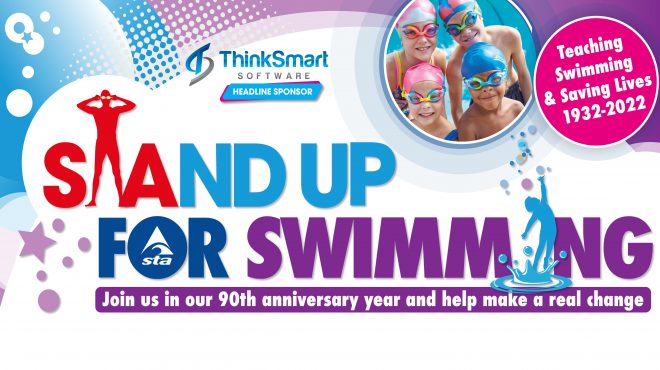 Following on from announcing our 90th anniversary plans to STAnd Up for Swimming, which involves pledging tens of thousands of our charity funds to train new swimming teachers around the UK in 2022, we are delighted to confirm we now have a new headline sponsor for the campaign – ThinkSmart Software, who own SwimBiz, a class booking, management and admin system that's been designed to fit the specific needs of swim schools.
Dave Candler, STA's CEO, said: "STAnd Up for Swimming has been created in response to the crippling swimming teacher shortage and the effect this is having on children being able to access swimming lessons – thanks to ThinkSmart Software's generous support, we will now be able to organise more courses and train even more new swimming teachers next year as part of this industry-first campaign."
---
George Bentley, the UK Managing Director of ThinkSmart Software, said: "We are really looking forward to working with STA and supporting STAnd Up for Swimming over the next 12 months. It's a brilliant campaign that we feel very passionate about; we are very proud to be able to play our part in helping STA tackle this worrying swimming teacher shortage. By helping STA to train more new swimming teachers, we will be giving even more children the opportunity to learn a key life skill."
---
Since November 2020, ThinkSmart Software have been official partners of STA and as part of this have been offering members free access to SwimBiz for the first two months, and thereafter 5% off their monthly subscription.
Over 2,500 businesses across the world are currently using one of ThinkSmart's software packages. For a free, no-obligation presentation, so you can see first-hand how SwimBiz helps swim schools, please contact the ThinkSmart Software team and quote the STA discount code which can be found via STA Online.